The management team oversees the day-to-day running of Asia Centre, develops its programmes and executes its activities and events.
Dr. Robin Ramcharan
Dr. Ramcharan is the Executive Director (a.i.) at Asia Centre. He is Professor of International Relations in Bangkok, Thailand. His professional experience spans academia, international organizations and the private sector. He has worked in the cooperation for development sector for many years in an international organization, implementing capacity building programmes and undertaking training of human resources for the benefit of developing countries. He has taught and researched on international security, human security, human rights and democracy and intellectual property rights. He has lived in Europe, North America, South Asia, Southeast Asia and South America. He has lectured in Canada, India, Singapore, Switzerland and Thailand. He holds a Ph.D and and M.A. (DES) in International Relations from the Graduate Institute of International and Development Studies in Geneva, Switzerland. He also holds an MA from the London School of Economics and Political Science, an LLM and an LLB from the University of London, and a B.A. Honours from Queen's University in Canada.  He was Post-Doctoral Fellow with the Center for International Peace and Security Studies of McGill University and the University of Montreal.
---
Patcharee Rattanarong
Patcharee is the Centre Manager at Asia Centre. She oversees the marketing and promotion of the Centre and manages the space. Patcharee has a keen interest in real estate with over 10 years experience in property dealings.  She holds a Masters from Prince of Songkla University in Southern Thailand.
---
Michelle D'cruz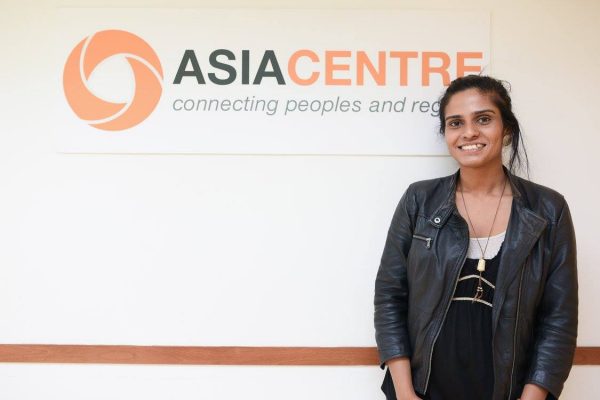 Michelle is Programme Coordinator at Asia Centre. She is currently pursuing a Master's in Human Rights at the Institute of Human Rights and Peace Studies, Mahidol University. Michelle has an LLB(Hons) from the National University of Singapore. In 2016 she graduated from Seoul National University's Winter Course on Human Rights and Asia. She was previously with MARUAH- Working Group for an ASEAN Human Rights Mechanism; where she worked on research and policy papers, events and assisted in  running the Secretariat.
---
Oxana Iatcenko
Oxana is the Communications Officer at Asia Centre. As the Communications Officer, Oxana manages the Centre's corporate communications portfolio as well as digital marketing and outreach.  Oxana graduated from the Faculty of Linguistics and Intercultural Communications, Vologda State Pedagogical University. She then received a scholarship to further her studies in the field of Urban Studies at Strelka Institute of Architecture, Media and Design. Oxana chose to work with Asia Centre in order to deepen her knowledge about communication sphere in Southeast Asian countries. She is passionate about social innovations, new technologies and products which work towards a better world. She loves the idea that data can be recharged and, while altering it, you can look at the whole picture, event or object from different perspectives.